What makes America exceptional?
Everyone in our nation is born with the freedom to use their God-given talents and skills to be the best version of themselves as possible. To use those talents and skills to further the American dream in its greatness. To know that our tired, our poor, and our huddled masses will be cared for by the kindness and gracious nature and actions of the American people. To know that our freedom is worth fighting and dying for in order to protect and perpetuate that message across our country and throughout the world.
Today, I ask all of you to reflect and give thanks to those that have paid the ultimate sacrifice so that all of us may enjoy the freedoms we so often take for granted. Today, we celebrate the lives they lived and the deep sacrifices our nation's heroes have made for the good of all Americans and the unwavering ideals we hold so dear.
Thank you and God-bless you.
Personal Connections to Memorial Day
Our family has provided a fantastic example of supporting our nation and being a part of something bigger than yourself.
My great-grandfather Joseph LaCorte immigrated to the USA from Italy and earned his citizenship by enlisting in the Army during WWI. An heirloom that we keep prominent are the papers he received when he enlisted with the Army.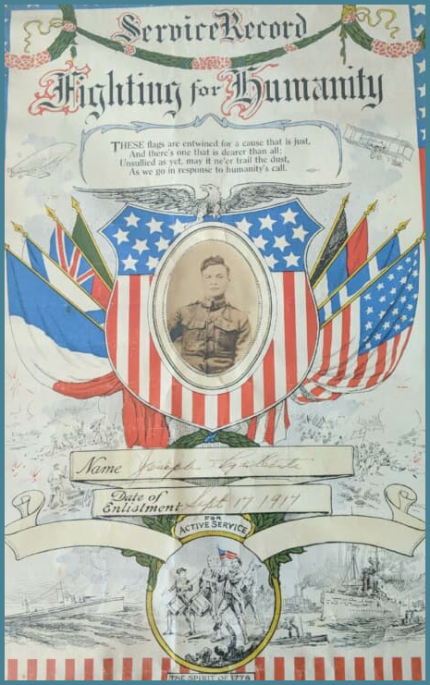 My grandfathers, Vito LaCorte Sr. and Joseph Zimmer served in the Army and National Guard. My great-grandfather James Ross served in the Navy during WWII.  I also had two great uncles that served in the Navy and a great uncle that served in the Army during WWII.
Jim's great-grandfather Edward Fette served in the Army in WWI.
Jim also had two grandfathers Elmer Sturm who served in the Army Airforce in WWII and James Fette who served in the Army during the Korean War.  He also has two uncles, Michael Sturm and Patrick Sturm, that served in the Navy in the Vietnam War.
Happy Memorial Day Erlanger!